Single Seat Valves
Kieselmann Single Seat Valve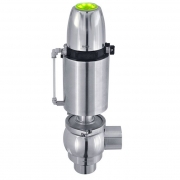 Single Seal Valves at Site
Kieselmann Single-Seat Valves
Kieselmann single-seat valves are applied for the universal shut-off of branched pipelines. Due to the combination of several valves also leakage-safe process management is possible.
Field of application
The single valves are utilised as a pneumatically controlled ahut-off valve in food and baverage as well as in pharmaceutical, biotechnological and chemical industries.
Versions
Inclined seat valve

Angle valve

T-valve

Cross valve

Two-way change-over valve

Loop valve

Tank outlet valve
Your benefits at a glance
Maintenance-free, universal drives with 5 years long-term warranty

4 power-adapted drives

Hygienic by closed lantern with leakage outlet

Totraumfreies housing in hygienic design

Extensive modular system
Nominal widths
Single Seat Valves DN 25 -150, 1" - 6"
Housing without dead space in hygienic design

Safe hygiene due to closed lantern with leakage outlet

Maintenance-free actuator with 5 years warranty

Modular system